Co-generation systems
Reduce your consumption
and the environmental impact
Co-generators
Co-generation systems produce electric energy and heat in equal measure: the energy from the fuel is used to yield electric energy and at the same time technological heat to the user.

Subsidies
Save money and protect the environment.
The government provides subsidies for the installation of co-generation systems.
Ask for more information
Why Co-generation?
A co-generation system allows to save up to 32% more than when using conventional systems which produce electric and thermal energy.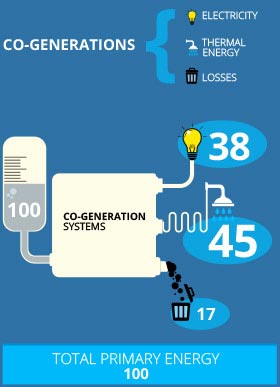 The primary energy used by co-generation systems, which amounts to 100%, allows to fully use resources by reducing waste up to 17% as well as impact on the environment, by ensuring limited CO2 emissions.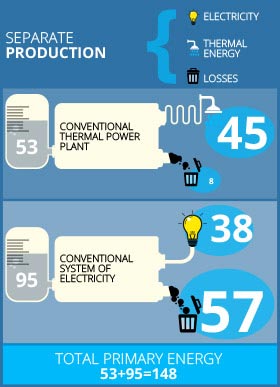 On the contrary, when a separate production occurs, a greater amount of primary energy needs to be used in order to get the same useful result in terms of energy, though the waste increases fourfold.
Types of Systems
Alternative internal combustion engine systems
based on the reutilization of the heat produced by exhaust emission, by cooling water and by oiling.
Gas turbine systems
equipped with a boiler to reutilize the exhaust emission heat.
Steam turbine systems
whether backpressure or condensation and spillage.
There is no one and only optimal solution for every use, as every single case needs to be carefully estimated in order to choose the most suitable systems.
In particular, in the case of diffused (at home) micro-cogeneration, the choice of an endothermic engine allows to get high mechanical yields, excellent reliability, easy maintenance and remarkable saving.
Tri-generation
By connecting a refrigeration machine to a co-generation system, you can get hot water, steam or chilled water, both for building conditioning and for industries.
The machine is equipped with all that is provided by the fire department regulation regarding fundamental parameters, among which maximum circuit temperature, low oil pressure, etcetera.
The parallel service with the electric distribution grid, when it is expected, is carried out by means of a suitable ENEL (NDNO) approved device which protects the machine by stopping its working, in case of anomalies on the line.